Robert's vision is to help everyone share the gift they are with the world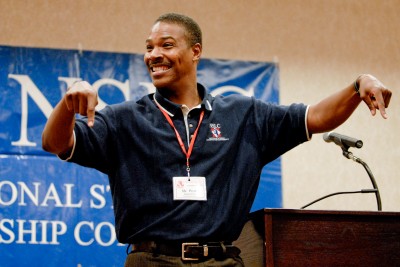 Robert Leigh Pruitt, II has provided leadership training and program development, motivational speaking, and spiritual life coaching throughout the United States, the U. K., Ireland, India, Africa, China, Peru, Cambodia and the Virgin Islands. Robert's client family includes: Operation Smile, Inc., The National Student Leadership Conference, The Congressional Black Caucus Foundation, Northern Virginia Criminal Justice Training Academy, Maryland's Department of Juvenile Services. Currently, Robert serves as faculty for noted author Iyanla Vanzant's Inner Visions Institute for Spiritual Development.
Pruitt—an informal educator since 1985—specializes in the development of programs that provide youth and adults an opportunity for extraordinary personal growth. Robert received the 2010 STEM CHAMPION CONGRESSIONAL AWARD for Pioneering Innovations that are Transforming Schools, Empowering Teachers as Designers of 21st Century Learning, and Preparing Youth as STEM Ambassadors and Global Leaders in a Digital Age.
He has authored books, which include "It Is Well With My Soul! Watching Daddy Live!" "Out of the Box: Sharing the Gift You Are with the World!", "Leadership and Advocacy in Pharmacy", and "Understanding Male Power and Its Role in Relationships for the NBA". He has appeared on CNN, Oprah and regularly on The Audrey Chapman Show on WHUR 93.3FM.
Learn More

Testimonials

Your solid professionalism, natural confidence, accurate intuition, gifted communication skills, penetrating vision, supportive guidance, sense of humor, and inspired ability to seamlessly weave together the threads of various wisdom traditions and offer a consistent and reliable truth make your services unmatched in my experience. -Michael Mack

The Outside the Box session was excellent -- no room for improvement! -P. Robinson, Reno, Nevada Department of Police

He was cool, very charismatic and friendly. He was very personable and I love that he openly welcomes extra counseling after the event.

Robert was great! His humor and knowledge were incredible! Please bring him back next month! -R. Sutton, CARECO, Inc.

Words can not explain the experience I had in participating in your session. It was more than just inspirational and motivational to me. -J. M. Roman, PathStone Corporation, Bristol, PA